MANAGEMENT PHILOSOPHY

Overview: 3 levels consisting of "Philosophy","Values", and "Code of Conduct"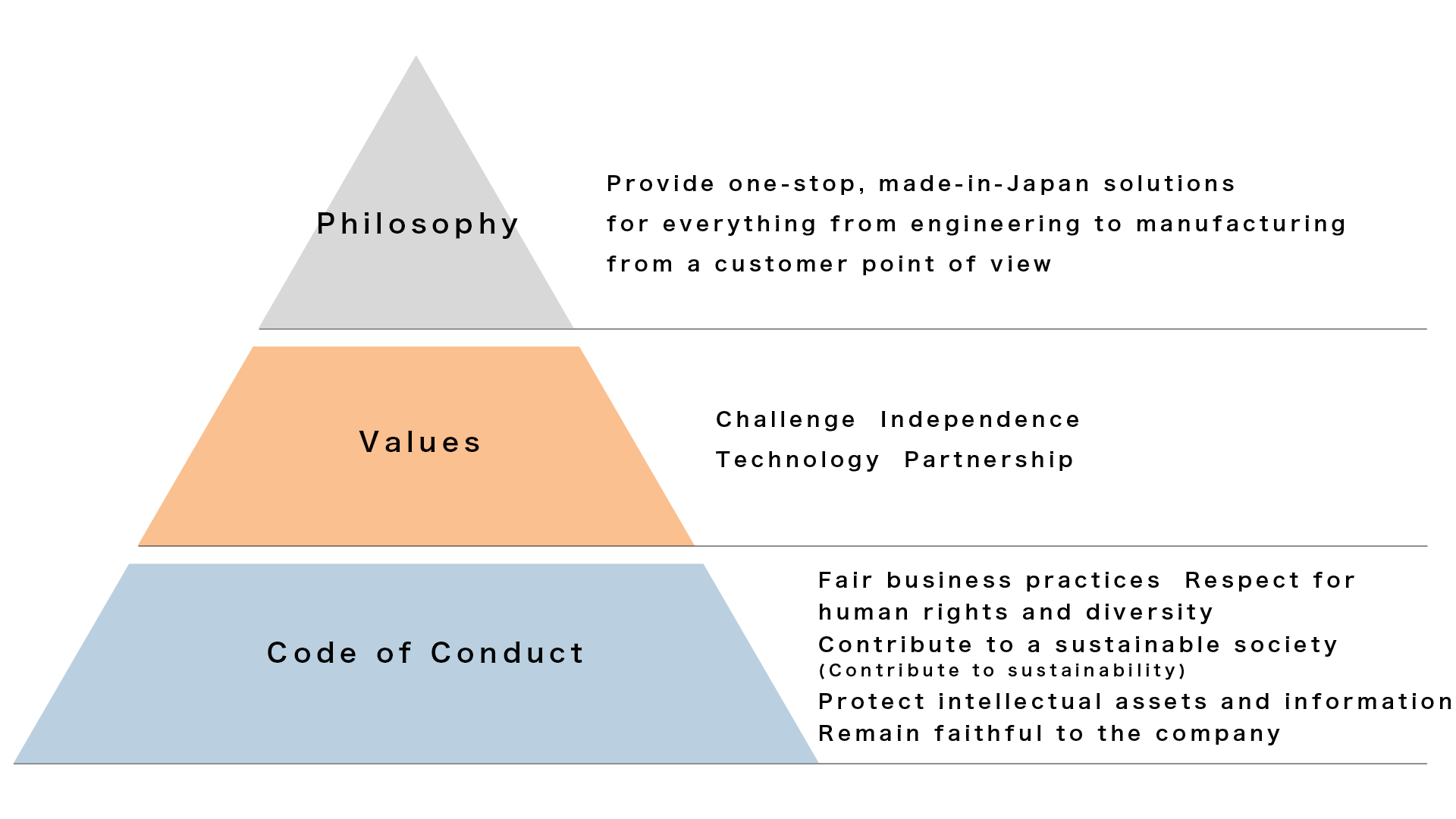 Philosophy

Providing one-stop, made-in-Japan Solutions for everything from Engineering to Manufacturing from a customer point of view
Values

Values are important points of view which support the realization of our philosophy.
In order for us to maintain our ODM and EMS business within Japan in the face of the intense changes in the business environment, we must always satisfy customer needs and continually endeavor to create new value.
In addition, we must maintain the strong will that will allow us to accomplish what we set out to do, no matter what difficulties we must overcome, in order to refine our skills and technologies as a manufacturing company, and thereby contribute to not only our customers, but to society as a whole through our manufacturing.
Moreover, we will continue to always value our relationships of mutual trust with clients, continue to move forward together, as a valuable business partner.
We aim to realize our philosophy by putting these concepts into practice.
Challenge

ー Continue to adapt to changes and evolve in order to work towards value creation

ー Think freely, make intelligent decisions, and act promptly

Independence

ー Maintain a sense of responsibility and follow-through when carrying out day-to-day work

ー Take the initiative to proactively involve others in order to accomplish goals

Technology

ー Continue to provide Japanese quality safe and reliable products and services

ー Remain inquisitive, and create value through new products and services

Partnership

ー Work together with customers from the same point of view in order to achieve customer goals

ー Always be sincere with clients, and build relationships of mutual trust in order to promote continued mutual growth.
JEMS Code of Conduct

Fair business practices

・Understand and abide by all laws, regulations, and other requirements related to company activities

・Abide by all internal company regulations

・Understand general common sense and business practices and employ them in all actions and behavior to obtain trust from both customers and society at large

・Maintain fair and transparent relationships with customers, suppliers, and all other stakeholders

>Respect for human rights and diversity

・Each individual must be conscious of and respect human rights

・Do not commit or participate in unfair discrimination or harassment based on race, ethnicity, nationality, gender, etc. or in any other acts which infringe upon the human rights of another Do not ignore, approve of, or allow such acts to occur

・Create comfortable and welcoming work environments by respecting diversity

Contribute to a sustainable society(Contribute to sustainability)

・Abide by all environment related laws, regulations and other requirements when carrying out company business activities

・Aim to contribute to the preservation of the global environment through one's work and role as a citizen

・Increase one's awareness and understanding of social issues and contribute to the creation of a more comfortable and affluent society

Protect intellectual assets and information

・Protect the company's intellectual assets, which are important management assets, through the acquisition and preservation of intellectual property rights (patent rights, trademarks, etc.)

・Respect the intellectual property rights of third parties and do not engage in any acts which may infringe upon those rights

・Appropriately manage all insider information and other company confidential information

・Appropriate handle all customer and other third party confidential information

・Abide by all laws, regulations, and other requirements related to the protection of personal

Remain faithful to the company

・Do not inappropriately seek to gain personal gain through business entertaining, gift-giving, or other means

・Do not use company information, facilities, or other assets for personal gain without authorization

・Do not engage in any acts, business or private, which create a conflict between the interests of the company and your personal interests