Environment

About environmental initiatives
▶︎Our company has established a central Environmental Management Promotion Committee which promote activities with all employees working as a cohesive whole aimed at resolving environmental issues.
▶︎In light of worsening climate change, resource depletion, and other environmental issues, our company carries out business activities with consideration for the environment in order to both fulfill our responsibility as a company and actively contribute to the preservation of the global environment.
We operate an ISO14001 management system.
※Registration number: EMS 775774
※Applicable locations: Head office
Greenhouse gas reduction initiatives
・Our company is working to reduce the amount of CO2 indirectly generated through our business activities.

・Our Co2 emissions for FY2020 were 5,402 t (Scope 2).

・As one of the measures to reduce CO2 emissions. Our company has decided on the installation of solar panels on the roof of our plant to provide a portion of our consumed energy, and these reduction activities will begin from FY2022.
・We also incorporate various innovations to carry out environmentally-friendly manufacturing using unique JEMS capabilities, and also take care to use energy efficient products as much as possible for production equipment, including automation equipment.
・Our CO2 emissions reduction target is a 38% reduction of the FY2020 ratio by FY2030.​
Initiatives aimed at reducing environmental burden of product production processes
Sustainable manufacturing only JEMS can provide via
"integrated development, manufacturing, and automation processes".
Plant-wide power reduction, CO2 reduction, and waste reduction in pursuit of high quality and high efficiency
Automation equipment and line structure aimed at downsizing and reducing power consumption​
Power consumption -115 MWh/year
CO2 emissions -40.4 t-CO2/year
Initiatives aimed at reducing environmental burden of product repair processes
Repair work only JEMS can provide withextremely low waste amounts
Environmentally friendly PCBA rework through utilization of advanced repair techniques and specialized dedicated equipment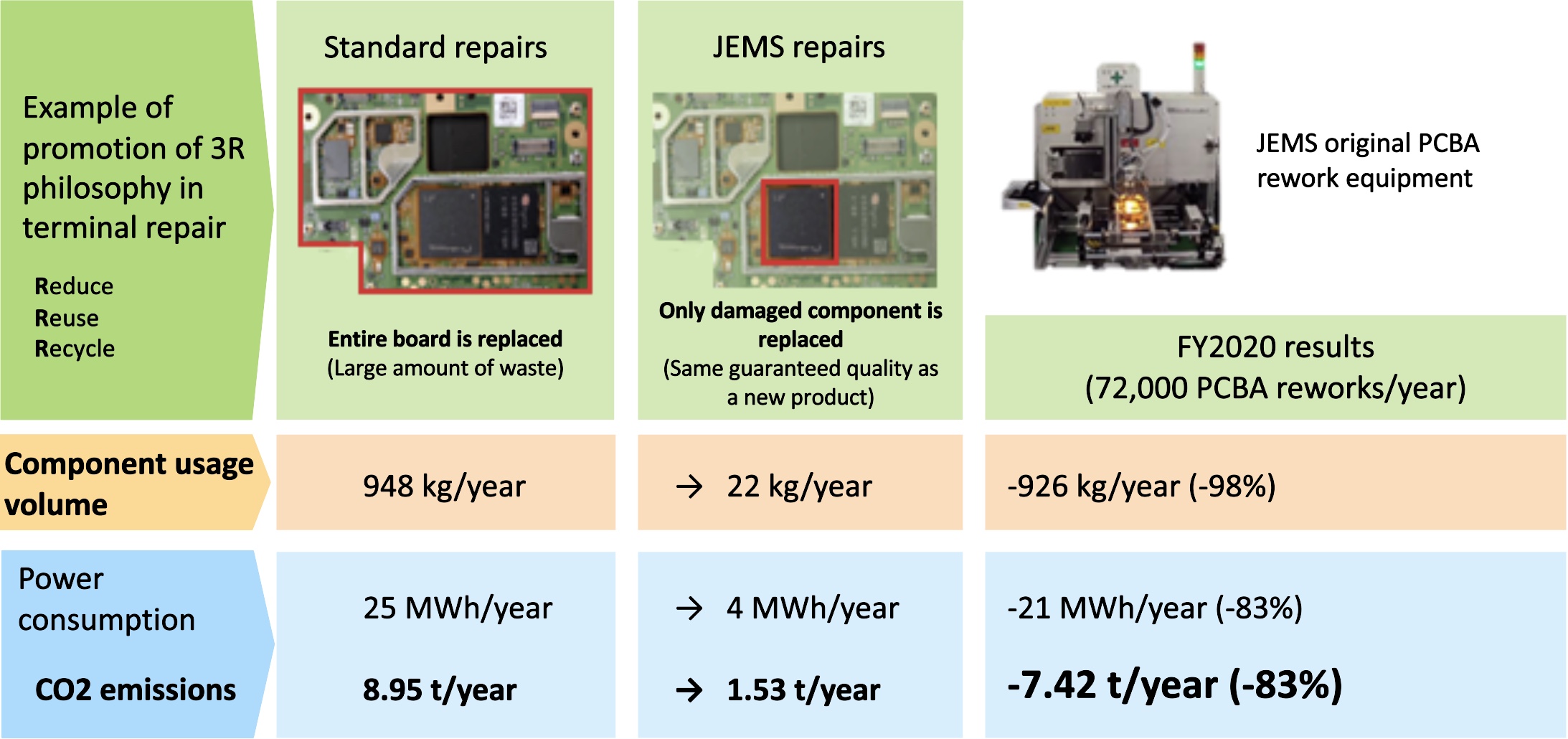 Solar panel installation
Solar panel installation

We are installing solar panels at our company to produce a portion of the energy used for business activities and promote greenhouse gas reduction initiatives.

These panels will begin operation from December 2022 and will reduce power consumption per day by approximately 14%.​  If this is converted to CO2 emissions, it can be expected to reduce emissions by
approximately 608 t per year.

Going forward we plan to actively utilize the generated electricity.​
Environmental preservation initiatives
Office air conditioning temperature management

We aim to reduce power consumption by setting office air conditioning to a standard 28℃ during the summer months.

Transition from fluorescent to LED lights

We continue to transition all of the fluorescent lights in our building to LED lights with lower power consumption.